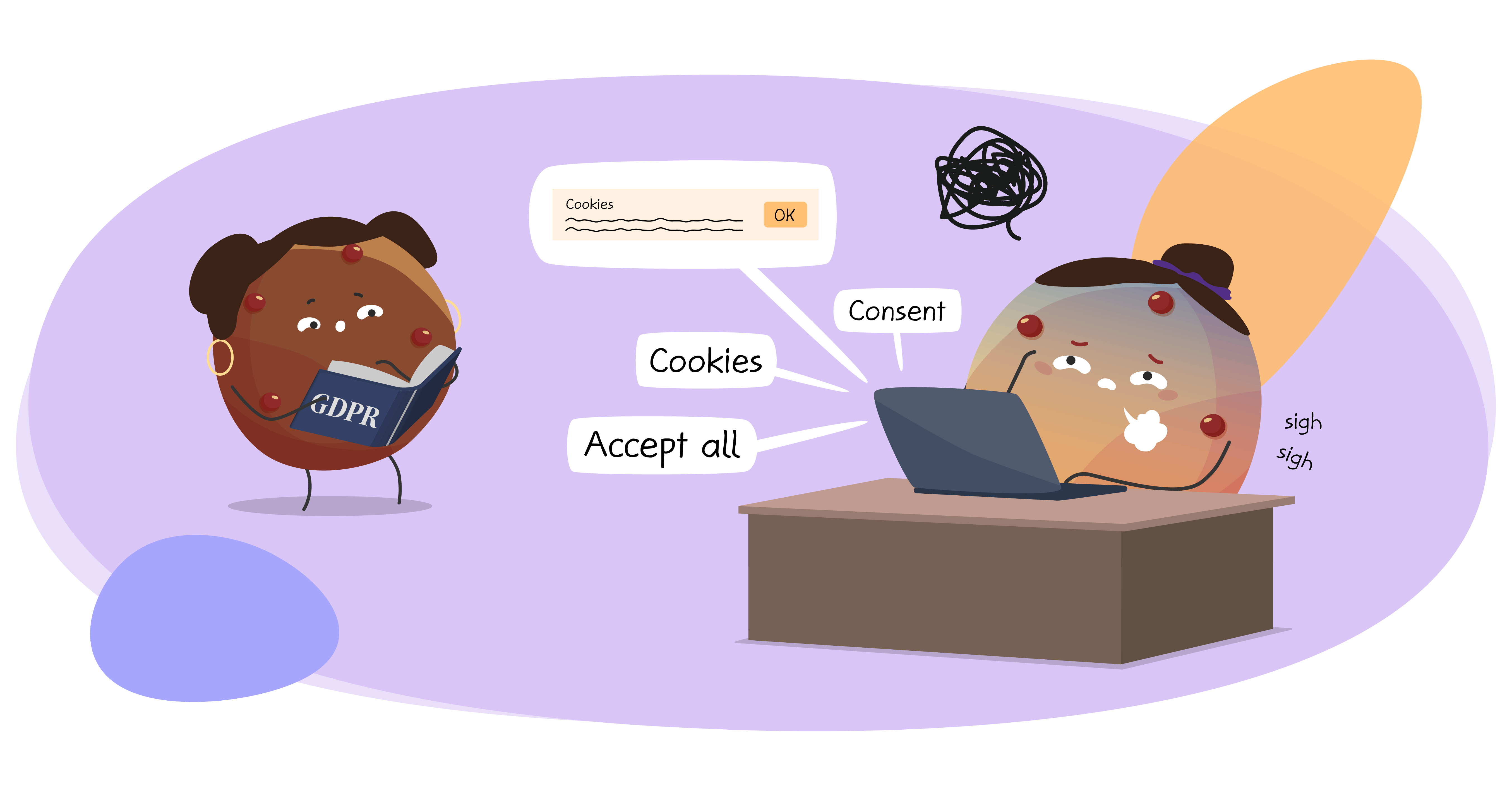 Your users are suffering from consent fatigue and here's why
Poorly designed cookie consent banners are causing users to ignore their privacy choices altogether. This blog post explains what consent fatigue is and how to alleviate it.
We all know the feeling.
It's almost the end of the workday and you're about to browse your 124th website. 
You wait for it to load—of course, another cookie banner pops up asking you to give your consent. *Queue the eyeroll and sigh*
You know the drill. You'll unenthusiastically glance over their explanation to ask you to consent and hover to click the 'Accept All' button as quickly as possible so you can put that thing in your shopping cart— and get on with your day.
This is known as 'consent fatigue'.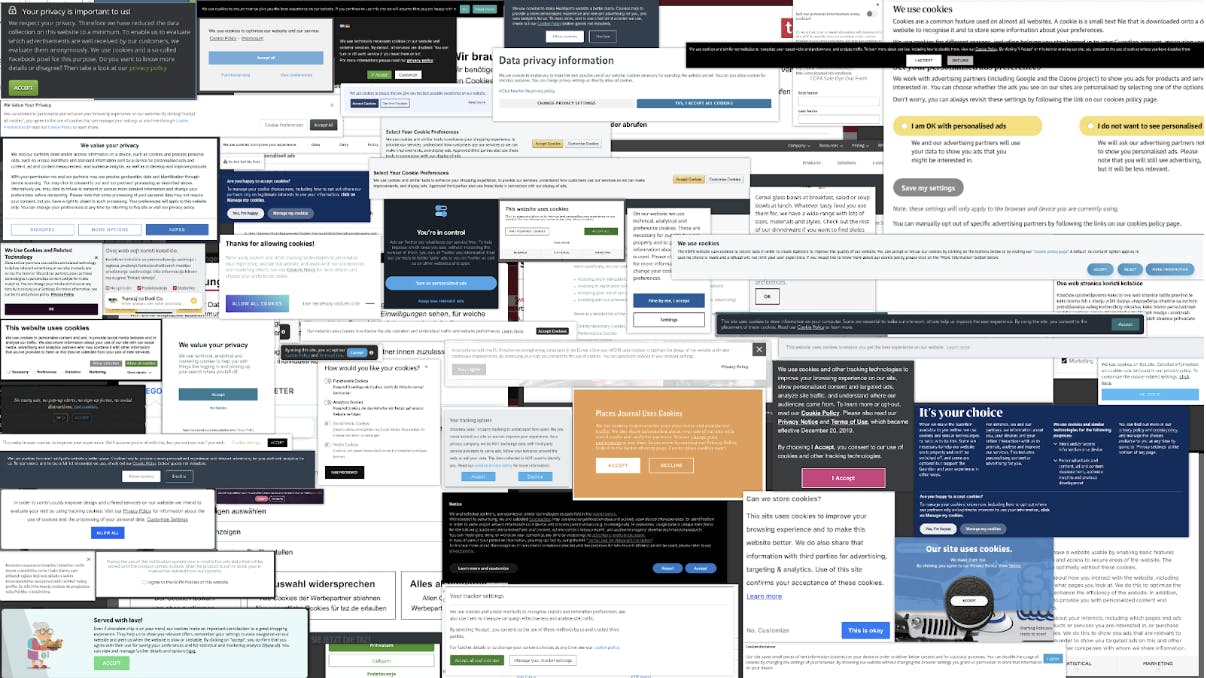 Source: Practical UX : Cookie Diabetes and Consent Fatigue
The cookie banners have triggered a type of syndrome: a combination of annoyance and indifference from website visitors who tend either to leave the site or 'accept all' out of spite. 
While it may not sound like a serious problem, it's a critical topic for websites because it impacts your performance, as well as your brand image.
To fix this, you must improve the overall cookie consent UX. Not sure where to start? We'll walk you through what it is and how to improve it.
What is consent fatigue?
According to Practical UX.com, consent fatigue is referred to: "burdening users with questions and forcing decisions when they access a website for the first time."
As internet users, we are confronted with countless awfully-designed cookie banners every day. And the more sites you visit, the more of them you see.
Consent fatigue stems from this avalanche of solicitations. They are often boring, repetitive because they all talk about cookies and only cookies—and not the tasty kind. 
And some consent UX can even be deemed as straight-up 'aggressive'. Like the ones that block your access to the site in order to get your consent first.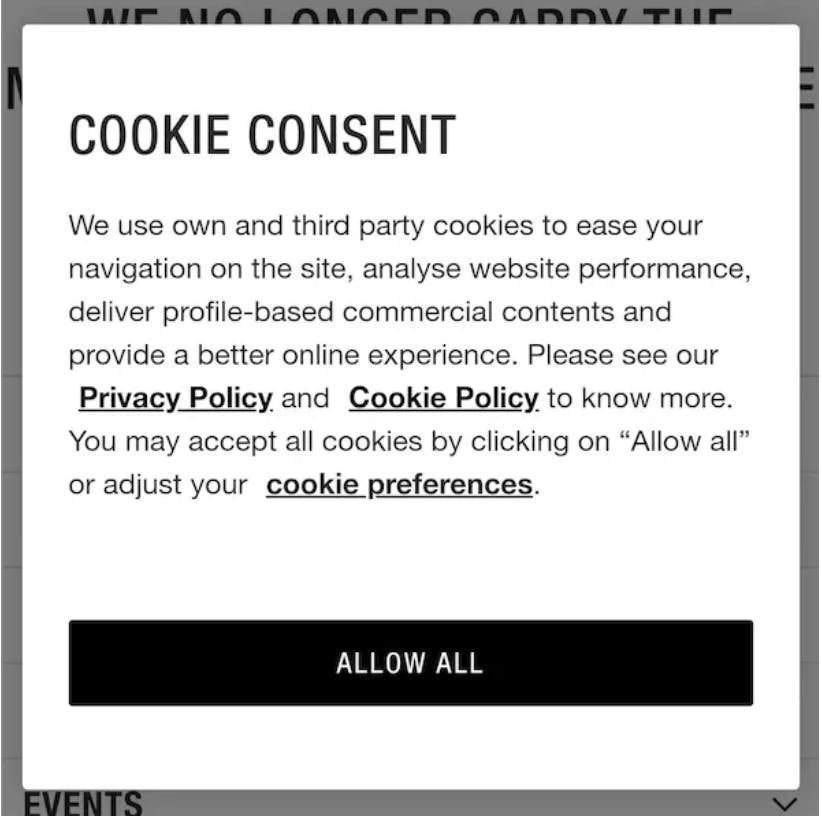 Source: Clario: What Are Dark Patterns and How They Trick You
This genre of poor consent UX on the internet is becoming a real disaster as it pushes your audience to adopt often one of three problematic behaviors:
Some users avoid consent requests like the plague. They install an adblocker to block banners or click on the cross to close the module;
Others leave the site as soon as they see the banner;
The majority of them accept cookies by default, because they feel pressured or because they click a button without thinking. 
None of these is the action you really want your website visitor to take, is it? 
Wouldn't you much rather have a user engage with your website, show clear interest, and then enthusiastically give you their consent so you can tailor your content to them?
Why do your users suffer from consent fatigue?
As you probably know, the GDPR has required all companies who do business with EU citizens to obtain the consent of visitors before storing certain cookies .
Because obtaining user consent was not a voluntary process for companies, many of them applied 'quick-fix' solutions or whatever was the easiest for them to adapt.
The result?
Upon landing on every other website, a cookie wall suddenly appears in the centre of the page. And you have to accept cookies..or reject all…or manage your preferences.
We often find the same banners with very technical, legal jargon that ends up drowning you in a mass of information and confusion. In short, this system discourages you from exercising your rights, and as a result nudges you to accept by default.
The GDPR did impose a challenge on companies to be compliant, however, it has never implied that we should compromise the quality of user experience.
Let's just say a lot of sites haven't made the effort to build something user friendly, respectful, and sustainable. 
And it was this shoddy experience that caused the fatigue.
Why should we fight consent fatigue?
First and foremost because it can impact the measurement of your website performance.
Sure, we all want to boost our consent opt-in rates—but we need to be careful not to degrade the user experience. Why? 
Intrusive cookie walls that contribute to poor website UX can greatly impact your bounce rate.
When visitors first land on your site, many of them do not want to be forced to make a choice. They want to close the banner as quickly as possible, or even ignore it to continue browsing. Basically, they don't want to interact with your module. (Can you blame them with all of the thousands of decisions they have to make everyday?)
By the end of their visit, this fatigue leads to collecting consent that is not truly consented. Therefore, this makes it difficult to assign your opt-in rates as a relevant KPI to measure brand loyalty.
So then, should consent be abandoned altogether as a KPI? 
What about replacing consent with legitimate interest, at least for some types of cookies? 
The thing is, consent is actually a good way to give control back to your users by allowing them to control certain data flows.
Keep in mind that the challenge for you is not to multiply your compliance efforts. It is to put the user at the center of your consent UX concerns. By empathizing with them as you design your cookie banner process, you'll be able to fight and alleviate consent fatigue.
How to fight consent fatigue through user experience
While it may seem like an impossible challenge, fighting consent fatigue actually presents an excellent opportunity for your brand to stand out.
Think about all of the bad websites and poor cookie consent pop-ups your audience is solicited with everyday. Brand differentiation will be the winning move here and what better way to stand out than to deliver a best-in-class consent management experience?
At the same time, this is also an opportunity to capture the attention of your users, by implementing: consent-as-a-service. 
Basically, you implement "a tool to enable you to create your own consent experiences for privacy regulation compliance".(Community CrowdPeak). You make the experience friendly, engaging, and transparent, which your visitors will take notice of. 
Obviously, you don't have the time, nor necessarily the internal skills, to work on the experience to offer. And that's where a CMS like Axeptio can help.
Our solution focuses on building a slick UX design, friendly graphics, with an educational and fun tone. And it's a piece of cake—all you have to do is install it.
The widget is fully customizable and adapts to all branding guidelines, allowing you to offer the best experience to your audience. They won't get tired of seeing your cookie banners displayed, even on the sites of other publishers!
Our contextual consent or our consent wall allows you to enrich the browsing experience and thus optimize your consent rate.
By installing our CMS on your website, you're integrating:
A perfectly GDPR compliant cookie management system
A privacy control feature through cookies
An educational marketing tool that will improve your user's brand experience. The cookies widget is one of the secret ingredients for your website


Fight against consent fatigue with a user-friendly CMP
What do you do when the European legislators give your website lemons? You make GDPR compliant lemonade!
Instead of responding to user anxiety about their data by presenting them with more privacy choices they have to make, you can choose to make their browsing experience reassuring and friendly. 
Axeptio may be a solution for you. It's a simple, modern, and elegant way to enrich your user experience—all the while being compliant and sleek.
Put your users at the heart of your consent UX problems, show them that you care and respect their privacy decisions—it will go a long way to build their trust in your brand.