The voice-and-tone is awesome. It's friendly and fun.
How did you experience with GDPR and other privacy laws?
GDPR is a great move forward our privacy as individuals. Here, at DynamicScreen, we value security and privacy as well. It was key to set up a solution to collect consent.

It was a no-brainer, really. Privacy can't and mustn't be negotiated. Especially for our users. We put a lot of effort and care to welcome, onboard and support them daily. To respect and protect their privacyis part of it.

Every part of the GDPR is critical.  Yet, sure, to collect consent might be one part more critical than the others because we don't own it. We expect to make it as easy and friendly as possible with Axeptio.
In this context, there are two schools: Build versus Buy. Why did you choose the second option?
Again, it was a no-brainer. We're building a SaaS product too, we embrace such a business model. And as an early-stage company, focus is vital. To ship new features, improvements, and bug fixes at a fast pace are vital. Axeptio helps us set up our cookie manager in no time, so we can focus on our product and our users.

It's key. It creates a more personal and relevant experience for users, and, more importantly, when a user agrees with terms, conversations get more engaged.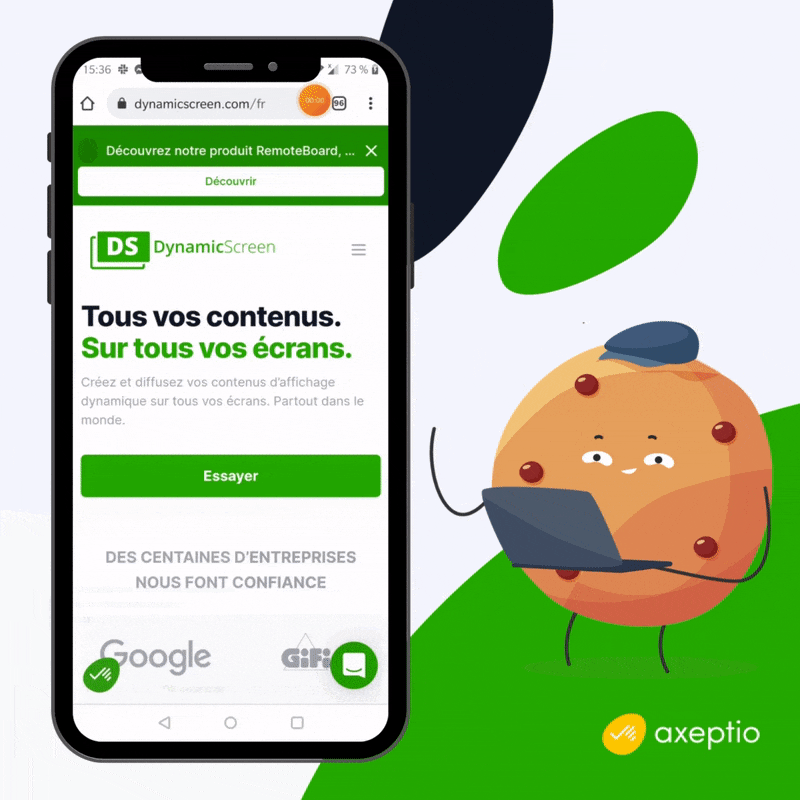 We mainly identified 3 criteria: (1) Simplicity, (2) User experience, and (3) Pricing.
What did you like the most about Axeptio?
The voice-and-tone is awesome. It's friendly and fun. We embrace it as well. It doesn't have to be crazy at work. When we welcome, onboard, and support our users, we want them to have this same feeling. Joyful and respectful.
Are there any practices that you do not like when you browse websitesthat ask for your consent?
It is SO annoying when you land on a web page where half the screen lists the terms and agreement, or when you're forced to accept all cookies, or--even worse--when your navigation is closed because you didn't accept them. User experienceis key. Here at DynamicScreen, design and UX are at the core of all our team decisions. We care about what we build and how we build it.

We mainly use Google Tag Manager (GTM). We run paid campaigns on Google to promote our products, and GTM helps us make sure we invest carefully and efficiently.

We're happy customers of Swile. So we couldn't resist when we discovered Axeptio on its homepage.
Last but not least, it's time for our NPS : Would you be willing to recommend Axeptio to your friends (BtoB of course)?
10
À propos
Simpler and smarter. We help you connect your screens so your teams keep in sync wherever they work.